What's Included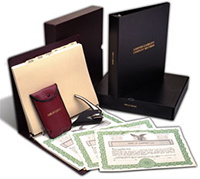 LLC Records Kit (record templates CD not pictured)
We will:
Confirm availability of your business name
Form your LLC by filing Articles of Organization - Prepared in 1 business day
Act as your registered agent
Obtain your federal tax ID (EIN)
Provide a customized operating agreement
Provide a company record kit and seal
File initial and first year annual reports
File publication of formation, when required
Provide compliance coaching to help you preserve your limited liability protection and corporate good standing
Choose a formation package that fits your start-up budget and needs.
Shopping Tips
If you are shopping between service companies to setup your LLC, below are some important tips to help you make the best decision.
Our Competitors
With us
#1: Beware of competitors who sell your personal and business information to their affiliates.

If you see free trials or consultations (for accounting software, logo services, and so on), this a sign that they are selling your information to those companies. These providers typically offer low-cost LLCs then sell your information to make $600+.

We

never

sell your information to third-parties.

We charge a fair upfront price for our professional services.

#2: Look out for hidden registered agent fees charged after checkout.

A registered agent is a legal appointment listed with the state to receive notice of lawsuit and other government or legal notices. Our competitors delay this fee so it isn't visible in your price at checkout. Instead, they automatically bill your credit card at the time the state approves your LLC, or after "3 months free". They charge an exorbitant rate with no chance to opt-out. Because their information was listed in state records, the burden is on you to file a change form and pay any change fee charged by the state.

Serving as a registered agent is a core part of our business.

Your entire first year of service is included in your formation package (but you can appoint any agent you wish). Our service renews 1-year later at the industry-standard rate of $99/year or you can cancel anytime.

#3: Our competitors charge extra for "rush service".

It is not uncommon for them to take 4-6 weeks to form your LLC. They charge an additional fee for faster turnaround.

Prompt service is included.


We preparing your articles of formation in 1 business day. After your articles are approved by the Secretary of State we promptly finish setting up your LLC in a matter of days, not weeks.

#4: Our competitors may surprise you at check-out with delivery, postage, and other fees.

After you've spent so much time going through their order process, our competitors anticipate that you're willing to pay a surprise upcharge just to finish.

No surprise fees at checkout.

In addition, our easy online questionnaire is focused on gathering the information we need from your to prepare your articles of formation. You will work one-on-one with your specialist to approve your articles and provide additional information.

#5: Automated document assembly, giant call centers, and no real support.
One-on-one support from your specialist

Your specialists is a professional you can contact directly for assistance. We hope you enjoy working with you specialist and rely on him or her to help you keep your LLC compliant for the life of your business.
3 Easy Steps
When you sign up for our service, a compliance specialist will promptly reach out to you to begin working. Your specialist will personally prepare your documents to your satisfaction.
Shopping Tip
Many companies take weeks to prepare your LLC formation, and will charge you hundreds in "rush fees" for prompt service. We prepare most formation documents within one business day at no additional charge.
In a rush? No problem!
Let us know your deadline. We will help you navigate state expedite options. For the fastest turnaround, our local office can hand-deliver your filing to the Secretary of State for an additional fee.
1-on-1 Support
Working with us is completely different than working with your typical online document assembly "factory". As soon as you order, you get access to a compliance specialist who works with you one-on-one through the entire process of setting up your LLC. Your specialist gets to know you and your business, and you can call or e-mail your specialist directly anytime. He or she personally prepares your documents, files them with the government, and provides updates as they are approved.
Working one-on-one with a full-time incorporation and compliance expert is one of our clients' favorite parts of working with us. As your business evolves and grows, your compliance specialist continues to be available for questions and additional services.
I am an architect and was looking to set up an LLC. Harbor Compliance set up everything for me - all for a fraction of the cost of hiring a lawyer. Nice work!
Ann
Wheaton Architecture, LLC
Harbor Compliance rocked my boat! My specialist and his team were insanely helpful and just what I needed. There are alot of things as an entrepreneur you have to do yourself but this isn't one of them. My specialist made it super easy to create my LLC and for that I'm eternally grateful! I highly recommend Harbor Compliance.
Angelique
Angelique Arroyo LLC
Starting from scratch to create a sole proprietor LLC was easy with help from Harbor Compliance. They saved me time, money, and confusion. Along the way they gave me pointers that helped me correct earlier errors. I am most pleased.
Dan
Dan Rosenblum Biomedical Consultant, LLC
State-Specific Expertise
We're committed to helping you start your business on the right foot. And that's means opening an LLC that is compliant with all the strange local requirements specific to your state. For example:
In Alabama, a name reservation is required.
In Alabama, Alaska, California, D.C., Louisiana, and Nevada, an initial report is required.
In Arizona, and New York, publication of formation is required.
Every state has different suffix requirements such as "LLC" or "Ltd.".
... and so on.
You don't have to worry about the details. Your specialist will help you through your state's processes.
Compliance
Helping you maintain a compliant LLC is the heart of what we do here at Harbor Compliance. This includes filing annual reports with the Secretary of State, maintaining a registered agent, renewing business licences, and more. Choose our LLC Compliance Package if you want us to file your first year of paperwork for you, and coach you through your first year of business.
Compliance paperwork is, admittedly, not the most exciting part of starting your LLC. But it's important. Failing to keep up with your compliance requirements can results in fines, penalties, loss of limited liability protection, and even administrative dissolution of your business. Our full-service compliance solution mitigates the risks of noncompliance, and gives you a partner to rely on as you expand your business into new states and products.
LLC Education
Common Questions
Choosing an LLC
---
Services For Attorneys and Accountants
We are proud to support attorneys, accountants, and other firms seeking reliable back-office support. We can form entities, provide correspondent service, and customize our technology and processes to meet your organization's needs. All of our staff and operations are U.S. citizens based in and working in the U.S.
In my opinion, their "Human Touch" element is what really makes this company stand out! I wouldn't go anywhere else!
Janae
Law Offices of Donald W. Hudspeth, PC
It's awesome to know that Harbor Compliance is looking out for my customers' best interests and will only do what's right for them.