A post by Marcy Ogborn, Content Manager for GiveGab.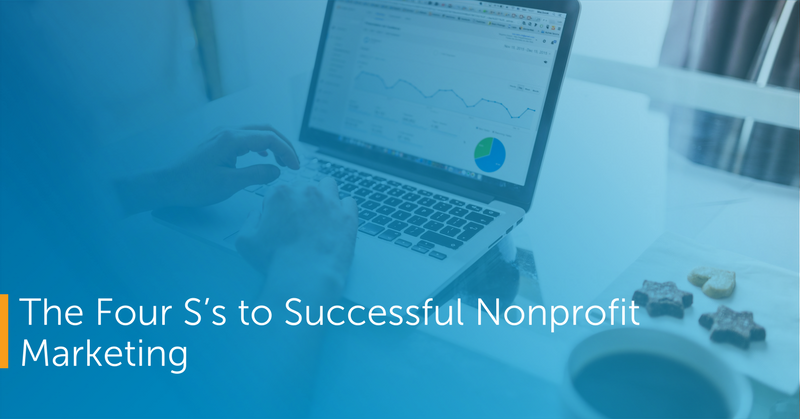 What constitutes as effective communication and marketing for nonprofit organizations is continually changing, but there are certain strategies you can implement that are timeless. By following the 4 S's of successful nonprofit marketing, you'll see positive changes to your marketing outcomes for 2017 and beyond.  Things to include in your strategy are:  
Storytelling

Stewardship

Sharing

Status
1. Storytelling
Your nonprofit's story is the magnet that either pulls people in or drives them away.  And because your cause is unique, you'll want to attract a select group of individuals who resonate with it.  How you accomplish this is through sharing a compelling story.  
Try telling stories from the perspective of someone or something that your organization seeks to help.  A good example of this is an animal shelter telling a story that incorporates the mindset of the pets they that care for.  

The SPCA of Tompkins County

, for instance, has created a highly successful Instagram campaign based on this theme.  Each day they feature at least one pet that has a unique and heartwarming story to tell.  And with over 4,000 followers, it's safe to say they're onto something!
An effective story that drives action often requires evoking an emotional response to your cause.  You can accomplish this through developing empathy with your target audience by telling a compelling story of struggle, as discussed in this article about

telling an emotional nonprofit story

.  Hardships and struggle are things that everyone can relate to on some level, and that ability to

relate

is what evokes empathy, emotion, and ultimately a stronger connection to something beyond ourselves.
2. Stewardship
Stewardship is establishing high-quality and meaningful interactions with your supporters to help sustain long-term relationships and repeat giving.  
Retention of your supporters should be at the top of your nonprofit's list of priorities.  If it isn't, make sure your organization is aware of

why

donor retention is necessary to succeed in the nonprofit world.
Effective retention requires

stewardship

, so make it a priority within your nonprofit operations to help make it more commonplace and easy for everyone to adhere to on a regular basis.
Incorporate stewardship into your marketing strategy through storytelling that gives your supporters the credit for your achievements, as mentioned above, and make implement this wherever it makes sense to do so – in your newsletters, emails, online fundraising campaigns, blog articles, website copy, and more.
3. Sharing
Sharing the successes, and even the pitfalls, of your organization with your supporters, is imperative if you expect them to continue supporting your cause.  When the people we care about share their good news and bad news with us, it shows that they care for us in return, and we're better able to nurture healthy long-term relationships.  
Show folks just how their support has made a difference by sharing regular updates – both directly and through your indirect outreach (on social media, your blog, and so on). Give them fun shout-outs that highlight them on social media and put them in the spotlight.  Ask them for permission first, of course.
When things aren't going so well at your organization, let your biggest fans know about it the way you would let a family member know when you're going through a tough time.  It's not about asking for help or placing a burden on anyone; rather, it's about keeping the people who care about you informed about how things are going – good or bad – showing that you care about them, too.
4. Status
Make your supporters feel like they have an important status or identity within your organization.
Your effective implementation of storytelling, stewardship, and sharing should help you accomplish this final goal of establishing a positive status or identity between your supporters and your organization.  
Ideally, you'll want your supporters to feel a sense of pride for being involved with your organization.  At the very least, they should feel good about it.  Part of helping to instill this identification is through humanizing your communication strategy to

make personal connections through marketing

efforts.  
What does your nonprofit organization currently do to achieve positive results through marketing?  Effective storytelling, stewardship, and sharing will help enhance the status of your volunteers and donors as being important to your everyday operations, increasing their commitment to your cause.    
Author Bio:
Marcy Ogborn is the Content Marketing Manager for GiveGab, the Nonprofit Giving Platform that provides tools for seamless online fundraising, supporter engagement, donor management, and so much more.
With over four years of general content marketing experience, Marcy's primary focus is to provide informative content and resources that serve to make the work of busy nonprofit professionals easier.  
To access educational resources or to learn more about their giving technology, visit www.givegab.com.  
---