You've worked hard this year. You've done an incredible job with your programming and have maximized the impact of each dollar raised. Your donors are impressed and spreading the word about your impact every way they know how – casual conversations over dinner, inviting guests to your events, and posting on Twitter, Instagram, and Facebook. Your donors' networks have become your network, spreading your message and expanding your outreach. Hopes for your year-end campaign are high.
Year-end fundraising will kick off with #GivingTuesday on November 29 and continue through December 31.
Over 30% of all U.S. donations happen in December, with over 10% happening during the last three days of the calendar year. A year-end campaign ensures you don't leave money on the table. Nearly one-third of all online donations are a result of peer-to-peer fundraising, so tapping into those networks is just plain smart and an effective way to expand your reach. In fact, social media is playing a role in 35% of all donations, so hop online, post your solicitation, make sure the "Donate Now" button is working on your website, and watch the funds roll in.
But first… compliance.
You want to talk about your mission. You should! Your vision is clear, your mission is progressing, and frankly, there is more work to be done. Let's just make sure that as you build, you build on a solid foundation that instills confidence in your ever-expanding web of donors. Let's make sure that you know the requirements and meet them so that nothing distracts from your true focus – the work of your mission.
Your relationships with your donors are built on trust. Transparency and accountability preserve that trust. Solicitation triggers solicitation. That "Donate Now" button on your website? It's asking for a donation.
If you're not in compliance, your run the risk of:
Fines and penalties that pull vital dollars away from the work that you are doing in your community.
Audits and enforcement actions that take your limited time away from the mission you're meeting.
Bad PR that can taint the reputation of your organization and follow you for years to come.
Instead, enjoy the peace of mind that comes with knowing that you can:
Fundraise anywhere at any time.
Tap into the relationships and connections that you have invested time in building.
Show the world of donors that you are a legitimate, credible organization, worthy of both their trust and their hard-earned dollars.
Embrace best practices and take that proactive, good-faith step of investing in compliance. Your time is valuable and desperately finite. #GivingTuesday and the season of giving are just days away. Donors are ready to be generous. Today's the day to make sure your year-end fundraising efforts are a solid investment.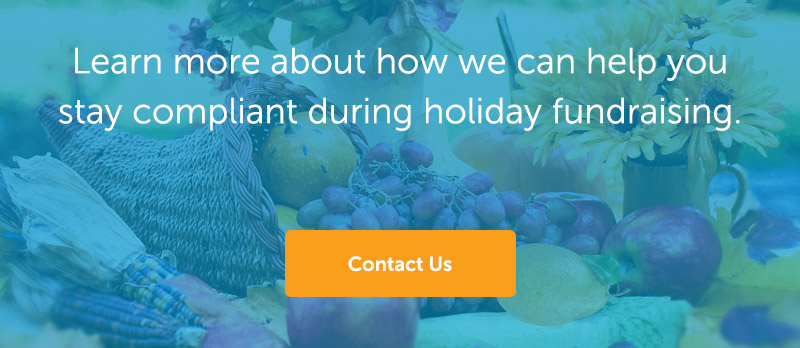 ---